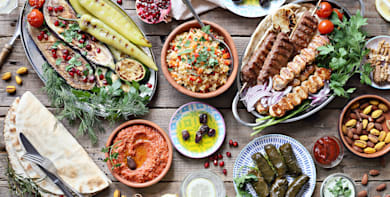 Menu
Special - Full Breakfast Roll
with juice, can or bottle
€6.00
Starter Breakfast
1 sausage, 1 bacon, fried egg, beans, hash brown
Contains:
Wheat
Eggs
Sulphur Dioxide and Sulphites
€8.95
Regular Breakfast
2 sausages, 2 bacon, 2 fried eggs, beans, hash brown, pudding
Contains:
Wheat
Barley
Oats
Eggs
Soybeans
Milk
Celery
Sulphur Dioxide and Sulphites
€10.95
Full Breakfast
2 sausages, 2 bacon, 2 fried eggs, beans, hash brown, tomato, mushrooms, pudding
Contains:
Wheat
Barley
Oats
Eggs
Soybeans
Milk
Celery
Sulphur Dioxide and Sulphites
€12.95
Low Fat Breakfast Option
3 bacon medallions, 2 poached eggs, grilled mushrooms & tomatoes, beans
Contains:
Wheat
Barley
Oats
Eggs
Soybeans
Milk
Celery
Sulphur Dioxide and Sulphites
€9.95
Veggie Breakfast
Scrambled egg, hash brown, mushrooms, tomato, beans
Contains:
Wheat
Barley
Oats
Eggs
€9.95
Full Stop Omelette
Contains:
Wheat
Eggs
Milk
Sulphur Dioxide and Sulphites
€8.95
Omelette (Plain)
Choice of cheese, mushroom, bacon, onion, spinach, peppers, etc
Contains:
Wheat
Eggs
Fish
Milk
Nuts
Celery
Sulphur Dioxide and Sulphites
€6.95
Eggs Fried
Contains:
Eggs
Milk
€6.95
Eggs Poached
Contains:
Eggs
Milk
€6.95
Eggs Scrambled
Contains:
Eggs
Milk
€6.95
Breakfast Bagel
With sausages, bacon, pudding and egg
€8.95
Large Breakfast Box 4 Rolls
6× Sausages
6× Bacon
6× Eggs
6× Hash Browns
6× Pudding
4× Grilled Tomatos
Large Tub Mushrooms
Large Tub of Beans
Served with 4 Rolls or 8 Toast
€28.00
Large Breakfast Box 8 Toast
6× Sausages
6× Bacon
6× Eggs
6× Hash Browns
6× Pudding
4× Grilled Tomatos
Large Tub Mushrooms
Large Tub of Beans
Served with 4 Rolls or 8 Toast
€28.00
Pancakes
Plain
Contains:
Eggs
Milk
Wheat
€5.95
Pancakes with Crispy or Back Bacon, Maple Syrup
Contains:
Eggs
Milk
Sesame Seeds
Wheat
€8.95
French Toast
Plain
Contains:
Wheat
Oats
Eggs
Milk
Sulphur Dioxide and Sulphites
€5.95
French Toast Crispy or Back Bacon, Maple Syrup
Contains:
Wheat
Oats
Eggs
Milk
Sulphur Dioxide and Sulphites
€8.95
Belgian Waffles Maple Syrup
€6.95
Belgian Waffles Banana and Peanut Butter
€8.95
Belgian Waffles Crispy Bacon and Maple Syrup
€8.95
Belgian Waffles Kinder Bueno Nutella and Ice Cream
€8.95
Belgian Waffles Oreo Nutella and Ice Cream
€8.95
Belgian Waffles Strawberries and Cream
€8.95
Belgian Waffles Strawberries and Nutella
€8.95
Italian Chicken Wrap, Tomato, Mozzarella
Italian Chicken Wrap, Tomato, Mozzarella & Italian Dressing
Contains:
Wheat
Milk
€9.95
Sweet Chilli Chicken & Cheese Wrap
Contains:
Wheat
Milk
€9.95
Chicken, Cheese & Sundried Tomatoes Panini
Contains:
Wheat
Milk
€8.95
Ham, Cheese & Onion Panini
Contains:
Wheat
Milk
€8.95
Ham & Cheese Toastie Sandwich
Contains:
Wheat
Eggs
Milk
€4.95
Full Stop Club Sandwich
Classic BLT with chicken breast, crispy bacon, melted cheddar cheese and full stop secret sauce.
Contains:
Wheat
Milk
Nuts
€6.95
Tuna Melt Sandwich
Toasted with tuna, red onion and smothered in red cheddar cheese
Contains:
Wheat
Eggs
Fish
Milk
€6.95
Sandwich
Choice of meat and cheese, lettuce, tomato and onion.
Contains:
Wheat
Eggs
Fish
Peanut
Milk
Nuts
Celery
Mustard
Sesame Seeds
Sulphur Dioxide and Sulphites
€6.95
Chicken & Stuffing Sandwich
Contains:
Wheat
Rye
Barley
Oats
Eggs
€6.95
Classic BLT
TRIPLE DECKER "TOWERING TERRIFIC" B.L.T
Contains:
Wheat
Milk
€6.95
Steak Sub with Onion, Peppers & Cheese
Contains:
Wheat
Milk
€9.95
Southern Fried Chicken Roll Sub
With lettuce & tomato
Contains:
Wheat
Eggs
€8.95
Homemade Soup
Available from 10:30am
Served with Brown Soda Bread.
Contains:
Wheat
Barley
Eggs
Fish
Milk
Celery
Sulphur Dioxide and Sulphites
€4.95
Soup Combo Soup & any Sambo
€9.95
Hot Southern Fried Chicken Salad with Tomato
Sweet Corn & Red Onion
Contains:
Eggs
Soybeans
Celery
Mustard
Sulphur Dioxide and Sulphites
€9.45
Puerto Rican Salad
Baked Chicken, Crispy Chorizo, Sweet Corn, Tomato, Red Onion, Boiled Rice & Caesar Dressing
Contains:
Soybeans
Celery
Mustard
Sulphur Dioxide and Sulphites
€9.45
Full Stop Chicken Caesar Salad with Crispy Bacon
Contains:
Wheat
Eggs
Milk
Mustard
€9.95
Large Garden Salad
Served with meat (€1 extra).
Contains:
Wheat
Eggs
Celery
€7.95
Italian Grilled Chicken House Salad
Contains:
Wheat
Eggs
Milk
Mustard
€9.95
Chicken & Spinach Pasta
Contains:
Wheat
Eggs
Milk
€9.95
Chicken Alfredo Penne Pasta
Contains:
Wheat
Eggs
Milk
€9.95
Pasta Carbonara
Chef Special
Contains:
Wheat
Eggs
Milk
€9.95
Bolognaise Penne Pasta
Contains:
Wheat
Eggs
Milk
€9.95
Homemade Lasagne
With chips or salad
Contains:
Wheat
Eggs
Milk
€9.95
BCHB (Bacon Cheddar Burger)
Contains:
Wheat
Milk
Sesame Seeds
€11.95
Cheese Burger
Contains:
Wheat
Milk
Sesame Seeds
€10.95
Breaded Chicken Breast Burger LTO
Contains:
Wheat
Milk
Celery
Sesame Seeds
€9.95
8oz Beef Burger
Contains:
Wheat
Milk
Sesame Seeds
€9.95
House Striploin Steak 10oz
Served with sauteed onions, peppers mash or chips
€16.95
Chicken Goujons & Chips
Contains:
Eggs
Milk
€8.95
Breast of Chicken Curry
Served with rice or chips
Contains:
Eggs
Milk
€9.95
Beer Battered Fresh Cod & Chips
Served with a slice of lemon and mushy peas
Contains:
Eggs
Milk
€9.95
2 x Dippy Eggs & Chips
Served with bread and butter
Contains:
Eggs
€8.95
2 x Sausages & Chips
Served with bread and butter
Contains:
Eggs
Sulphur Dioxide and Sulphites
€8.95
2 x Dippy Eggs and 2 x Sausages & Chips
Served with beans, bread and butter
Contains:
Eggs
Sulphur Dioxide and Sulphites
€9.95
Large Garden Salad Side
Contains:
Celery
Eggs
€5.50
Portion of Chips
Contains:
Wheat
€3.95
Portion of Garlic Cheese Fries
Contains:
Wheat
€4.95
Large bowl of Chicken Wings (8)
With our secret hot sauce and served with garlic mayonnaise.
Contains:
Eggs
Sulphur Dioxide and Sulphites
Molluscs
€7.95
Sauces Homemade Secret Mayo
€2.00
Sauces Sweet Chilli Sauce
€2.00
Selection of Desserts on Display
Contains:
Wheat
Oats
Eggs
Peanut
Milk
Nuts
€3.95
Apple Tart Gluten Free
Contains:
Wheat
Eggs
€4.50
The Fullstopper Smoothie
Vanilla Syrup, Blueberries, Strawberries, Milk, Honey
Contains:
Peanut
Milk
€3.50
Strawberry and Banana Bliss Smoothie
Strawberries, Bananas, Vanilla Syrup, Honey, Milk
Contains:
Peanut
Milk
€3.50
Monkey Business Smoothie
Banana, Orange Juice, Ice, Honey, Mango
Contains:
Peanut
Milk
€3.50
The Fruit Puncher Smoothie
Strawberries, Bananas, Blueberries , Mango,
Passion Fruit, Orange Juice
Contains:
Wheat
Milk
€3.50
Vanilla Shake
Contains: 
Peanut
Milk
€3.50
Banana and Peanut Butter Shake
Contains:
Peanut
Milk
€3.50
The Chocolate Cake Shake
Contains:
Peanut
Milk
€3.50
Toma Amot White Wine
ABV 12%
75cl
Sauvignon Blanc
Fresh and fruity white wine made in La Mancha, Spain. Pale yellowish green with bright shades, delicious aromas with citrus and exotic fruits. Well-balanced acidity on the palate, soft in the mouth. Ideal with salad, sea food and fish.
€9.95
Toma Amot Red Wine
ABV 13.5%
75cl
Cabernet Sauvignon and Shiraz
This wine has an attractive deep ruby red colour with violet shades. On the nose it displays a wide range of exciting aromas of coffee, tobacco and fruit compote with well integrated oak notes. On the plate it is complex and well structured with a long aftertaste. Pairs well with red meats, game and mature cheeses.
€9.95
Botter White Wine
ABV 12%
75cl
Pinot Grigio
Balanced wine of pleasant elegance and harmony with structure and aromatic breadth. Excellent appetizer.
€12.95
Botter Red Wine
ABV 12%
75cl
Merlot
Pleasant, soft and straightforward red wine of French origin. To be paired with white meat and roasted meats.
€12.95
Contact Us
Find Us
296 Ballyfermot Road, Dublin 10, BALLYFERMOT
Opening Hours
Please note, delivery times may vary.
We deliver to
Ashtown, Ballyfermot, Ballymount, Blackhorse Ave, Bluebell, Carna, Carpenterstown, Castleknock, Castleknockknockmaroon, Castleknockpark, Chapelizod, Cherry Orchard, Clondalkin, Clondalkinballymount, Clondalkincappaghmore, Clondalkindunawley, Clondalkinmonastery, Clondalkinmoorfield, Clondalkinrowlagh, Crumlin, Decies, Dolphins Barn, Drimnagh, Drumfinn, Goldenbridge, Harolds Cross, Inchicore, Islandbridge, Kilmainham, Kilmainham (Dublin), Kilnamanagh, Kimmage, Kylemore (Dublin), Kylemore Road, Laurel Lodge, Longmile Road, Maryland, Naas Road, Navan Road, Palmerston, Palmerston Village, Palmerstown, Park West, Phoenix Park, Phoenix Park Racecourse, Porterstown, Red Cow Roundabout, Rialto, Sth Circular Rd (D8), Strawberry Beds, Tallaght Village, Tallaghtkilnamanagh, Terenurecherryfield, Terenurest. James, Ushers, Walkinstown